31 Aug

#50: I Have a Chimney Top Damper with a Cable Coming Down. How do I Plug the Flue?
Fireplace #50: Chimney Top Damper with Cable Down the Flue
These retrofitted chimney top dampers come in a variety of styles and brands. They are currently a very popular solution for replacing traditional throat dampers. These are their characteristics of top-sealing dampers:
They have a long cable or chain that descends from the damper apparatus at the chimney crown (image 50-3) to the firebox (image 50-6).
The chimney cable locks into a bracket mounted on the side of the firebox. (image 50-7)
If there was a lower traditional throat damper in this fireplace, it was removed or cut out to allow the cable to come down (image 50-1).
These top-sealing dampers can be used in round flue liners (image 50-5), or in square flue tile (image 50-4)
The nice thing about these chimney top dampers is they are easy to open and close and they are suitable replacements for aged and rotted throat dampers that are hard to get parts for or rebuild. The downside to these top-dampers is they tend to trap in chimney odor and can sometimes feel drafty even when they seal tightly. We have another article that talks more on the problems with top seal dampers.
If you use the fireplace regularly, use the Chimella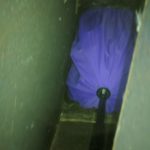 If you use your fireplace regularly, and you are looking for the easiest product to take in and out. The Chimella is the best option. You can install it right into your flue tile or upper smoke chamber. It will press the cable against the wall as it opens in that area.
Here are the Steps:
The Chimella sizes to fit when opened in the flue, so you don't have to be exact with your measurements. It is better to have a Chimella that is too large, than one that it too small in this application.
If the hole you are putting the Chimella in is less than 16″x16″ in width and length then use the Standard Size Chimella.
If the flue tile is bigger than 16″x16″, but less than 19″x25″, then use the Large Chimella.
It is important to open a Chimella properly when installing, so it gets a tight fit.  Here is a Video to see how the Chimella works. Pay close attention the the part of the video about tightening the collar with the purple dot on it.
If you want to plug it and forget it, use the Flueblocker
If chimney odor is the prime issue. Or if you don't use your fireplace very much and you just want a way to plug the flue for a long duration. Then go with a Flueblocker. Here is a video on how the Flueblocker works.
Take a quick measurement of the narrow opening just above your firebox (Image 50-10). Often this will be the old metal damper frame of an old throat damper
Buy a Flueblocker that size, or a little large for the hole. It pressure fits, so it doesn't hurt to have a little extra material. Just don't buy one that is too small.
The Flueblocker is a wool pad with extra hems, so you can trim it to size with sharp scissors. For example: the Flueblocker in image 50-10 was a 13×35 Flueblocker trimmed down to a 10″x34″.