Fireplace #50: Chimney Top Damper with Cable Down the Flue
These retrofitted chimney top dampers come in a variety of styles and brands. They are currently a very popular solution for replacing traditional throat dampers. These are their characteristics of top-sealing dampers:
They have a long cable or chain that descends from the damper apparatus at the chimney crown (image 50-3) to the firebox (image 50-6).
The chimney cable locks into a bracket mounted on the side of the firebox. (image 50-6)
If there was a lower traditional throat damper in this fireplace, it was removed or cut out to allow the cable to come down (image 50-1).
These top-sealing dampers can be used in round flue liners, or in square flue tile (image 50-4)
The nice thing about these chimney top dampers is they are easy to open and close, and they are suitable replacements for aged and rotted throat dampers that are hard to get parts for or rebuild. The downside to these top-dampers is they tend to trap in chimney odor and can sometimes feel drafty even when they seal tightly. Bottling a chimney at the top is problematic in many ways.
The Flueblocker is the durable solution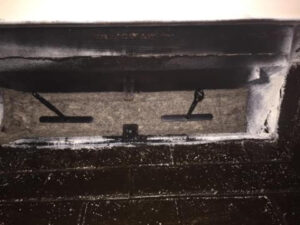 For this application, go with a Flueblocker. Here is a video on how the Flueblocker works.
Take a quick measurement of the narrow opening just above your firebox (Image 50-1). Often this will be the old metal damper frame of an old throat damper
Buy a Flueblocker that a little large than the hole. It pressure fits, so it doesn't hurt to have a little extra material. Just don't buy one that is too small.
The Flueblocker is a wool pad with extra hems, so you can trim it to size with sharp scissors.
You can cut a small slit in the edge of the wool pad for the top-damper cable to come down through. That way you can keep the top damper closed ,and have the Flueblocker installed.