25 Aug

#23: I have a Swing Handle Damper with Bar Supports, How Do I Plug the Flue?
Fireplace #23: Swing Handle Damper with Supports and High Flue Tile
These Swing Handle Dampers are very common in masonry fireplaces of solid brick or stone. These are their characteristics:
They have a long rectangular sheet iron damper frame and matching door.
The door has a straight cast iron handle sticking down attached to a horizontal support. (image 23-2)
The handle swings forward and back.
All of the hardware is welded or bolted and is not removable.
The damper door is almost straight vertical when closed.
There are welded metal horizontal bracers below the damper (image 23-2)
In this particular application you can see through the damper opening (image 23-3). The flue tile terminates a vertical distant of over 4 feet above the damper . This makes for a very tall smoke chamber, and tricky access to the flue tile, since it is out of hands reach. Also with the damper opening being almost vertical it makes for limited access through the damper. This is one of the more difficult applications to plug.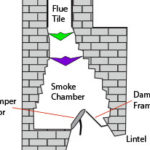 Chimella
If you are looking for the easiest product to take in and out of the flue, the Chimella is the best option. But the Chimella's spring loaded extending handle is only 24″ long. So select an area within 24″ of your reach in the flue tile or smoke chamber to make your measurement.
Here are the Steps:
You will need a folding carpenters ruler folded into an L shape, or a builders T square (image 23-3) to measure the flue tile or the upper smoke chamber.
The Chimella sizes to fit when opened in the flue, so you don't have to be exact with your measurements.
It is better to have a Chimella that is too large, than one that it too small in this application.
If the hole you are putting the Chimella in is less than 16″x16″ in width and length then use the Standard Size Chimella.
If it is bigger than 16″x16″, but less than 19″x25″, then use the Large Chimella.
It is important to open a Chimella properly when installing, so it gets a tight fit.  Here is a Video to see how the Chimella works. Pay close attention the the part of the video about tightening the collar with the purple dot on it.